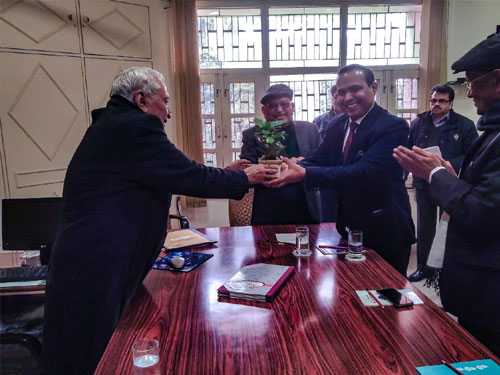 An Accountancy subject enrichment workshop
An Accountancy subject enrichment workshop was organised for class 12 students of commerce stream on 27, December 2019.
The resource person of the workshop was *Dr Vikas Vijay*, M Phil, Doctorate, Cost accountant, Law graduate, Author of the book "Together with Accountancy "with 25 years of teaching experience.
Dr Vikas Vijay was greeted by our esteemed Management members, Director sir and Principal Ma'am. A sapling was presented to him by Padam Shri Gyan Chand Jain ji followed by welcoming words of Respected S M Jain ji and other honourable members of the management.
The objective of the workshop was very specific and goal-oriented to make students aware of -
Sequence of attempting questions
Type of common mistake committed
Accounting English in understanding CBSE questions
Analytical synopsis of CBSE accountancy paper with examples
Strategic tips to prepare and write the answers
Expected pattern/type of questions categorically from each topic

The workshop was backed by outstanding research work done by Dr Vikas Vijay. His expertise to deal with the subject phobia and to cater to the requirement of different level of students made it all the more productive exercise.
The success of the workshop was evident from the voluntary feedback provided by the students at the end of the workshop.
The workshop concluded with vote of thanks extended by Mrs Bhavna Aggarwal.
We, Ms Bhavna Aggarwal and Ms Shivani Gupta, owe a special thanks to Director Sir under whose leadership this workshop was organised.

Best school in north Delhi, School in north Delhi, North delhi top schools, Best school in north west delhi, Schools for nursery admission near me, Schools for nursery admission in delhi, Top 10 schools in north delhi, Top 5 schools in north delhi, Top schools near me, Best school near me, Top 10 schools in delhi for nursery admissions, List of schools in north delhi, Top schools in north delhi, Mahavir Senior Model School