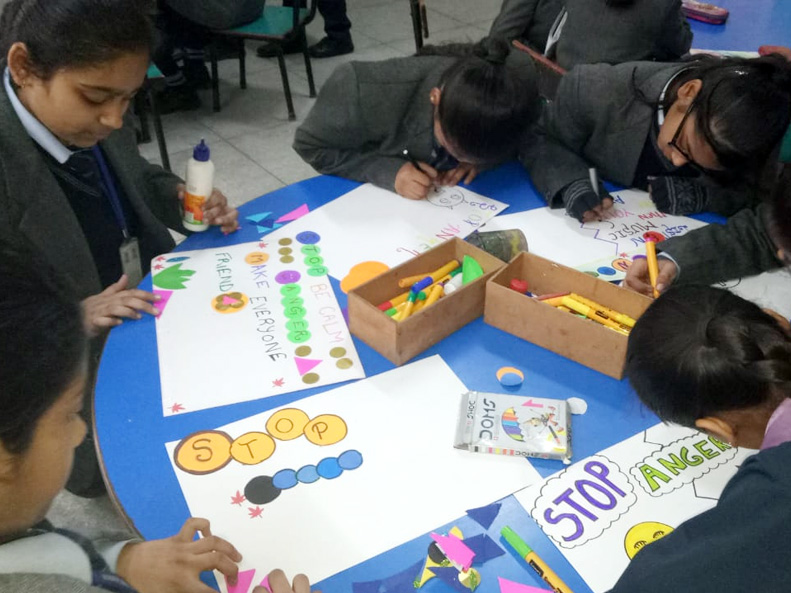 Practicing self-restraint
"Every time you get angry, you poison your own system."
Self-restraint gives you inner strength and a way to control yourself, your actions and reactions. It helps improve your mental focus and thus enhances the decision making capacity. Exercising self-restraint further increases the rate of understanding things and provides one with an ability to take good judgments.
Following CBSE guidelines to inculcate the skill of self-restraint and anger management, Art department discussed different means and ways of curbing annoyance and displeasure amongst students through the medium of art.
Students from class 3rd to 8th put their best foot forward and actively participated in making vibrant posters on the theme of curbing anger.
Through expressive arts, teachers reiterated different means and ways of dealing with this issue and practice self-restraint so that our students are able to optimally benefit from it.
Best school in north Delhi, School in north Delhi, North delhi top schools, Best school in north west delhi, Schools for nursery admission near me, Schools for nursery admission in delhi, Top 10 schools in north delhi, Top 5 schools in north delhi, Top schools near me, Best school near me, Top 10 schools in delhi for nursery admissions, List of schools in north delhi, Top schools in north delhi, Mahavir Senior Model School