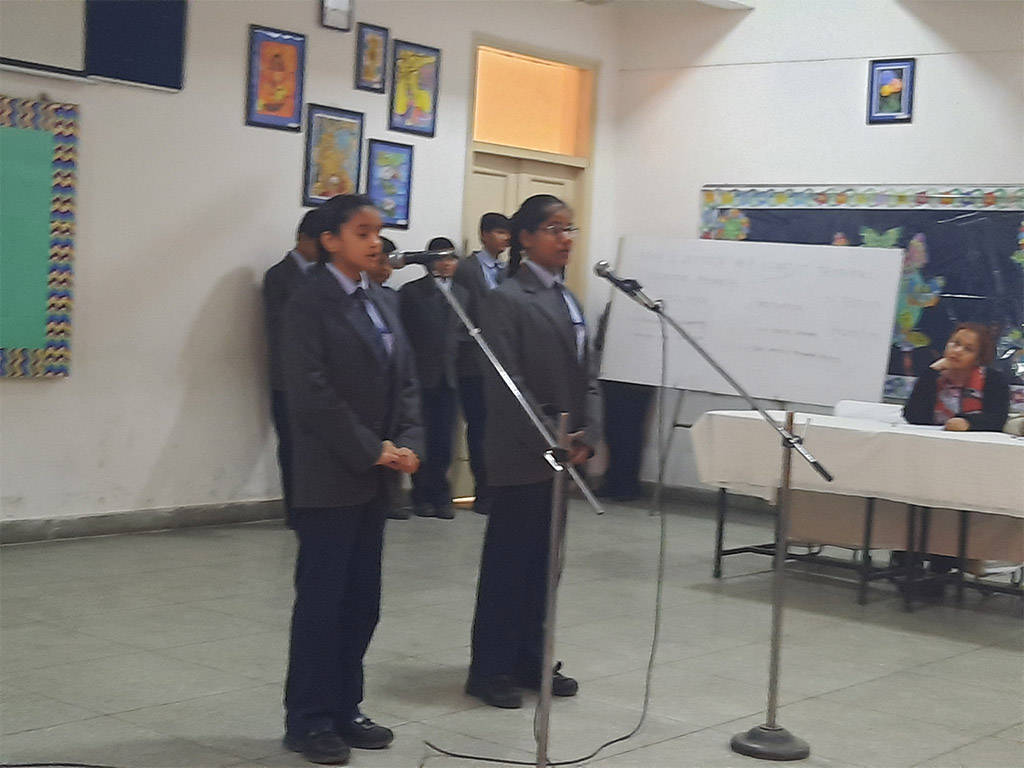 Class 8th Debate Competition
REPORT ON DEBATE COMPETITION
"It is better to debate a question without settling it, than to settle a question without debating it" ~Joseph Joubert
Debate is one of the academic activity that give students a creative room to express what they feel. To offer this creative opportunity to our young Mahavirians, An interclass Debate Competition was organized on 23rd January, 2020 , for the students of Class VIII , held in the school premises.
The aim of the competition was to hone public speaking skills of the students and teach them to be articulate while expressing their thoughts and opinions.
The topic of the debate was "Social Networking Sites : A Boon or a Bane?" Total 9 teams participated enthusiastically and eloquently shared their views in favour of the topic and against it. The participants, armed with lots of pros and cons of networking sites made their arguments more emphatic with their righteous facial expressions and voice modulation. Talented and budding speakers exhibited great oratorical skills.
Students enumerated various points as :
☆Pros of SNS
*Made communication much easier.
*Sharing of important information.
* Means to get entertainment.
* Stress Buster
* Socializing Activator
* keeps Up to date
* Business deals
☆Cons of SNS
*Fake and weak relationships
* Self esteem issues - Comparisons
*Unreliable and inauthentic information
*Privacy Issues
*Cyber Crime
*Addictions
*Lack of physical activities- more health issues
* Waste of Time
It was indeed a riveting debate with a crisscross of opinions and apt rebuttal and speakers spoke with great confidence and gusto.
The competition was judged by Mrs. Narender kaur and Ms. Megha Sharma.
Our honorable Principal ma'am, Mrs. Ruchika Sukhija graced the event by her presence and enlightened students about the cautious use of Social Networking Sites followed by an interactive discussion session. Further, she congratulated the proud winning teams.
The competition was an enthralling experience for the speakers as well as the audience.
We would like to take this opportunity to express our gratitude towards honorable Director Sir, Principal ma'am and Mrs. Kanchan Naswa -HoD English Department for providing constant motivation and encouraging us to organise such activities.

Best school in north Delhi, School in north Delhi, North delhi top schools, Best school in north west delhi, Schools for nursery admission near me, Schools for nursery admission in delhi, Top 10 schools in north delhi, Top 5 schools in north delhi, Top schools near me, Best school near me, Top 10 schools in delhi for nursery admissions, List of schools in north delhi, Top schools in north delhi, Mahavir Senior Model School