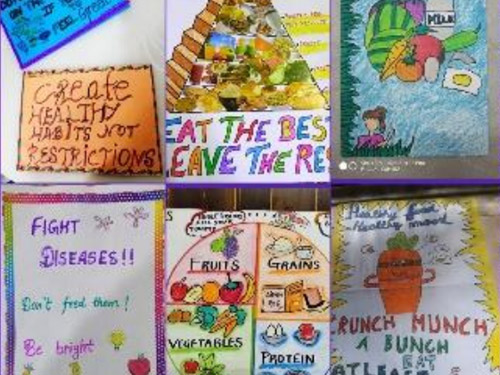 Celebration of Nutrition Month
"School is where children spend most of their time and it is where we lay foundation for healthy habits"
Just as the saying goes, MSMS had put in great efforts to make the health and Nutrition Month in September a success.
With the motive to intensify awareness on the importance of nutrition for health among young Mahavirians, Science Department of MSMS conducted plethora of activities with a focus on the various aspects of nutrition.
Following activities related to the Nutrition Month were organized across each grade.
"A bite into Healthy Lifestyle" - Poster Making Activity was organized for students related to the theme.
Diet Chart - Students prepared diet charts presenting complete guide to Healthy Eating.
Slogan Writing - A slogan Writing activity was organized on the theme - The New Tradition is the Good Nutrition
Students prepared beautiful informative cards and presentation to spread messages about the nutrition.
PPT - In order to make students aware about the unconventional ways of enriched food, students prepared beautiful PowerPoint Presentations
VIRTUAL ASSEMBLY - Students organized a Virtual Assembly to aware everyone about important tips related to health and well being.
It was a month of utmost delight to create opportunities for òur young Mahavirians to unleash their talents with fun-filled informative activities.
Science Department

Best school in north Delhi, School in north Delhi, North delhi top schools, Best school in north west delhi, Schools for nursery admission near me, Schools for nursery admission in delhi, Top 10 schools in north delhi, Top 5 schools in north delhi, Top schools near me, Best school near me, Top 10 schools in delhi for nursery admissions, List of schools in north delhi, Top schools in north delhi, Mahavir Senior Model School