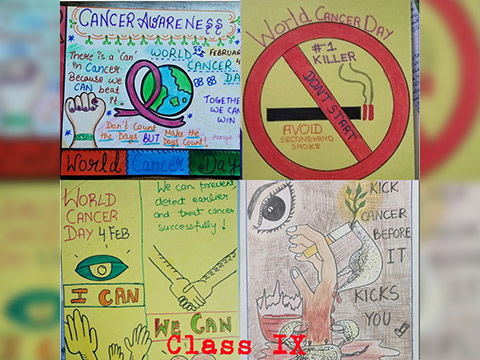 World Cancer Day
World Cancer Day, organized by the Union for International Cancer Control (UICC) and celebrated each year on 4 February, is an opportunity to rally the international community to end the injustice of preventable suffering from cancer.
This year's theme, "I can, we can" acknowledges that everyone has the capacity to address the cancer burden. We can work together to reduce cancer risk factors. We can overcome barriers to early diagnosis, treatment and palliative care. We can work together to improve cancer control and achieve global targets to reduce premature mortality.
Science Department organised awareness program for students and educate them the possibility of cancer control. The activities are poem recitation, slogan writing , colourful presentation and cancer day posters and making of collage.

Best school in north Delhi, School in north Delhi, North delhi top schools, Best school in north west delhi, Schools for nursery admission near me, Schools for nursery admission in delhi, Top 10 schools in north delhi, Top 5 schools in north delhi, Top schools near me, Best school near me, Top 10 schools in delhi for nursery admissions, List of schools in north delhi, Top schools in north delhi, Mahavir Senior Model School