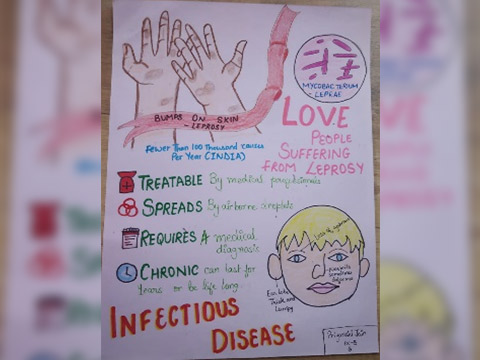 World Leprosy Day
"It's not about how much you do, but how much love you put into what you do that counts"
It is the need of the hour to show concern and love for people across the world suffering from Leprosy. The theme for World Leprosy Day-2021 is World Leprosy eradication by creating awareness
Accelerating towards leprosy free world and developing concern towards mankind Science department organised Leprosy awareness program at all levels in the school on World Leprosy Day-30th January. Students participated in all the activities with great zeal and developed sensitivity towards the suffers. They also shared the devotion, dedication and service towards mankind by Mother Teresa.
The activities are poem recitation , slogan writing , colourful presentation and cancer day posters and making of collage.
This programme was a great learning experience as well as a step for evoking sensitiveness towards mankind.
A sense of concern for others gives meaning to our lives, it is the root of all human happiness.

Best school in north Delhi, School in north Delhi, North delhi top schools, Best school in north west delhi, Schools for nursery admission near me, Schools for nursery admission in delhi, Top 10 schools in north delhi, Top 5 schools in north delhi, Top schools near me, Best school near me, Top 10 schools in delhi for nursery admissions, List of schools in north delhi, Top schools in north delhi, Mahavir Senior Model School