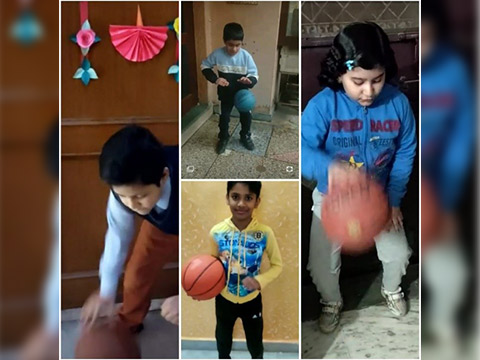 FIT INDIA SCHOOL WEEK
Physical fitness is not only the most important key to a healthy body, it is the basis to a dynamic, creative and intellectual activity.
Fit India School Week was celebrated from 14th December,2020- 19th December,2020 by the department to promote a habit of healthy living in young Mahavirians. The prime objective of this was to make the students more aware about the relevance of the fitness in life. It was conducted from class I-IX and XI. The week was started with fun and fitness activities indulged in a fun filled session of free hand exercises, virtual morning assemblies. Live aerobics yoga sessions was organized on the theme of 'Jo Fit Voh Hit' and spread the message 'Altering Passive Screen Time to an Active Field Time' with a theme of 'Hum Fit Toh India Hit' a Poster Making competition was conducted, Movie Making Activity was also conducted on 'Get Fit Don't Quit' and 'Mental Health is not Journey but a Destination.' Virtual Sports Quits was also organized for class VI-VIII students. Students enthusiastically participated in Bop It Virtual Challenge and Ball Dribbling Challenge. A family Fitness Day was also conducted with their kids. A webinar on 'Diet and Nutrition' was organized by the department and the key note speaker was Dr. Bharat Gupta and students also attended a motivational webinar on fitness conducted by the department and the motivational speaker was Dr. R. Ram Mohan Singh.
The intention of doing this is to propagate the message of sedentary lifestyle and embracing a healthier way of living.

Best school in north Delhi, School in north Delhi, North delhi top schools, Best school in north west delhi, Schools for nursery admission near me, Schools for nursery admission in delhi, Top 10 schools in north delhi, Top 5 schools in north delhi, Top schools near me, Best school near me, Top 10 schools in delhi for nursery admissions, List of schools in north delhi, Top schools in north delhi, Mahavir Senior Model School