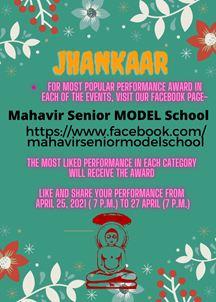 Online inter school competition jhankaar & mahavir jayanti celebrations (April 2021-22)
"Fight with yourself, why fight with external foes? He, who conquers himself through himself, will obtain happiness." - -Lord Mahavira
Mahavir Jayanti is the most important and auspicious festival of the Jains as it is marked to celebrate the birth of Lord Mahavir.
He was born in the 6th century in Bihar, to Queen Trishala and King Siddhartha.
Lord Mahavir was named Vardhaman, which means "one who grows," because of the increased prosperity in the kingdom at the time of his birth. While growing up, he showed interest in meditation. When he attained the age of 30, he took the spiritual path and left his throne to practice Jainism.
Devotees commemorate this religious festival in loving memory of the 24th Tirthankara of Jainism, who was the last spiritual leader.
MSMS IDEOLOGY AND CELEBRATIONS
We at MSMS have always strived and endeavored to follow the Principles of Lord Mahavira in our daily life and wish to imbibe the same in our students.
Every year MSMS celebrates MAHAVIR JAYANTI with great pomp and show. Though the celebrations were mellowed down due to COVID 19 pandemic yet it couldn't fade the enthusiasm in our hearts. Crisis give rise to new opportunities and open avenues. Since we couldn't have real performance and stage show MSMS gave a twist to the celebrations and decided to celebrate this auspicious day with the world outside by inviting the schools to participate in an online inter school competition 'JHANKAAR'
ONLINE INTER SCHOOL COMPETITION
To celebrate the propitious occasion of Mahavir Jayanti MSMS organized an online inter school competition ' Jhankaar'.
Participating schools had to send their entries in two categories.
EVENT-1
SUR SUDHA: SOLO SINGING COMPETITION
Participating school had to send one solo song video of the student on any traditional devotional song.
Mrs Venu Garg, HOD music department and her team judged the performances on the basis of :
PERFECTION IN SUR, TAAL, DICTION, EXPRESSION AND OVERALL PRESENTATION and bestowed following titles to the deserving participants.
RESULTS OF SUR SUDHA
THE MOST MELODIOUS VOICE :
Vidisha Tripathi (class 7)
School- Bal Bhavan public school, Mayur Vihar
PERFECT ARTIST :
1. Sriya Anvitha Ammu (class 7)
- Indraprastha International school, Dwarka.
2. Anushruti (class 6)
School- SL DAV Mausam Vihar, Delhi
BEST PRESENTATION :
Suhani Mishra (class 6)
- Sunbeam School, Annapurna
MOST POPULAR PERFORMANCE :
All the performances were posted on the Facebook Page of MSMS.
Ridhima Gupta (class 8) Sunbeam School, Varuna got maximum likes ( 274) from the viewers and was so her performance was chosen as the Most Popular Performance.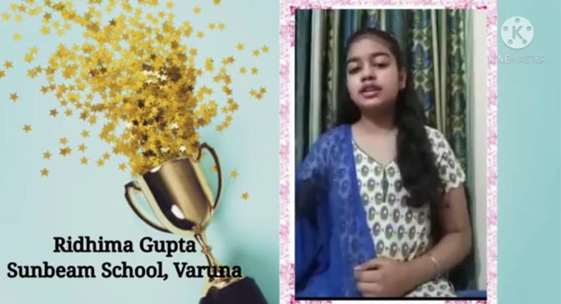 EVENT-2
NRITYAANJALI : SPIRITUAL DANCE COMPETITION
Once again participating school had to send one solo dance video of the student performed on any spiritual or devotional song
Awarding the following titles to promising dancers in the making co - judges Mr Harish Verma and Mrs Poonam Verma judged the students on the basis of :
TAAL, COSTUME, EXPRESSION, SONG SELECTION, TIME LIMIT AND OVERALL PRESENTATION and honoured the winning entries with the following titles
BEST PERFORMANCE :
1. Adrika Sahay (Class 5), Army Public School , Shankar Vihar.
2. Aleena ( Class 4), Modern Convent School
BEST COSTUME :
1. Aaradhya Raghwat ( Class 4),
Mount Abu Public School Rohini Sector-5
2. Shanaya Dhall (Class4), Shree Ram World School
BEST DANCE STEPS ARRANGEMENT :
1. Himanshi Aggarwal ( Class 4),
SRDAV Public School Dayanand Vihar
MOST POPULAR PERFORMANCE:
Bagging 459 likes, performance of Kavya Aggarwal (Class 4),Sunbeam School , Varuna was judged as Most Popular Performance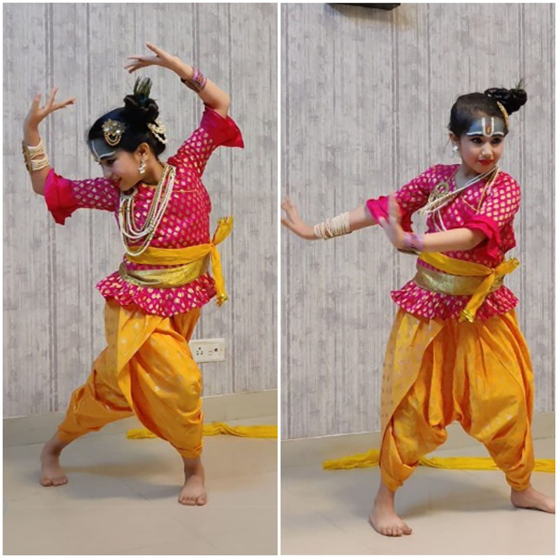 "Do not injure, abuse, oppress, enslave, insult, torment, torture, or kill any creature or living being." - Lord Mahavir
Best school in north Delhi, School in north Delhi, North delhi top schools, Best school in north west delhi, Schools for nursery admission near me, Schools for nursery admission in delhi, Top 10 schools in north delhi, Top 5 schools in north delhi, Top schools near me, Best school near me, Top 10 schools in delhi for nursery admissions, List of schools in north delhi, Top schools in north delhi, Mahavir Senior Model School