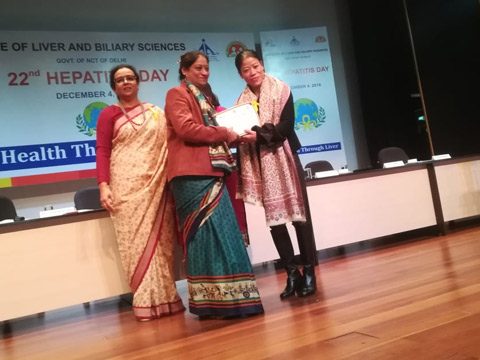 22nd Hepatitis Day
Inflammation of the liver is usually referred to as hepatitis. Viral hepatitis is a widespread infectious disease normally caused by the hepatitis viruses A, B, C, D and E. The condition can be self-limiting or can progress to liver fibrosis (scarring), cirrhosis or liver cancer. As per latest estimates, 40 million people are chronically infected with hepatitis B and six to 12 million people are chronically infected with hepatitis C in India.

To create awareness about Hepatitis, Institute of liver and Biliary sciences celebrates Hepatitis Day every year on 4 th December.
This time Chief guest of the event was the health minister of Delhi Mr. Satyendra Kumar Jain and brand ambassador is Mrs. Mary Kom
Director of ILBS Dr. Shiv Sarin guided the students and made everyone take pledge that every one will spread awareness for hepatitis.
He gave the slogan Hepatitis Haarega India Jeetega

Various competitions like poster competition, poem recitation competition were held.
More than 28 schools from all over Delhi participated in these events.Our students of MSMS Jaskirat Singh and Vishesh Aggarwal of XI C and Geetaksha Jain of IX C received
Consolation prizes in Poem recitation and poster competition respectively.
They were accompanied by Mrs.Kamaldeep Narula.

We thank Director Sir, Principal ma'am and our HoD Ms.Charanjiv Chopra for providing us such opportunities.

Best school in north Delhi, School in north Delhi, North delhi top schools, Best school in north west delhi, Schools for nursery admission near me, Schools for nursery admission in delhi, Top 10 schools in north delhi, Top 5 schools in north delhi, Top schools near me, Best school near me, Top 10 schools in delhi for nursery admissions, List of schools in north delhi, Top schools in north delhi, Mahavir Senior Model School