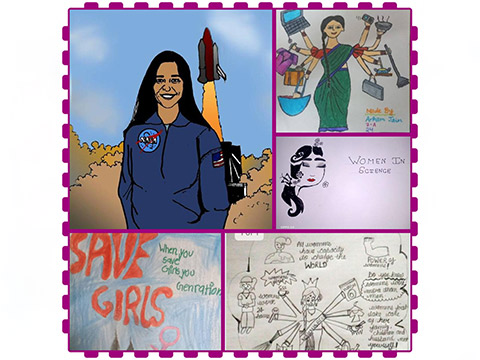 International Day of Women and Girls in Science
There is no force more powerful than a woman determined to rise .
The International Day of Women and girls in Science is the 11th day of February by resolution of the UN General Assembly on 22 December 2015. This year the theme is "Beyond thr Border: Equality in Science and Society."
The day recognizes the critical women and girls play in science and technology.
The day's purpose is to promote full and equal access to participation in science for women and girls.
This Day is a reminder that women and girls play a critical role in science and technology communities and that their participation should be strengthened.
Its more important than ever to recognize women's contributions in science, smash sterotypes and defeat discrimination against women and girls in science.
Plethora of activities is organised by Science department for our young Mahavirians and they are as follows:
Class 5 students portray any women scientist/ researcher in science who inspired them. Students also prepared short video of 60 seconds expressing their views on topic :WOMEN IN SPACE.
Students made a doodle depicting theme on International Day of Women in Science
Students sketch their imagination on topic REAL WOMEN, INCREDIBLE LIFE.
Students pen down their feelings on topic WOMEN EMPOWERMENT.
Students R&D on International Day women in science and prepared an e-collage or a small magazine column.
Students sparkled their creativity and few responses are shared below.
#WOMENINSCIENCE

Best school in north Delhi, School in north Delhi, North delhi top schools, Best school in north west delhi, Schools for nursery admission near me, Schools for nursery admission in delhi, Top 10 schools in north delhi, Top 5 schools in north delhi, Top schools near me, Best school near me, Top 10 schools in delhi for nursery admissions, List of schools in north delhi, Top schools in north delhi, Mahavir Senior Model School