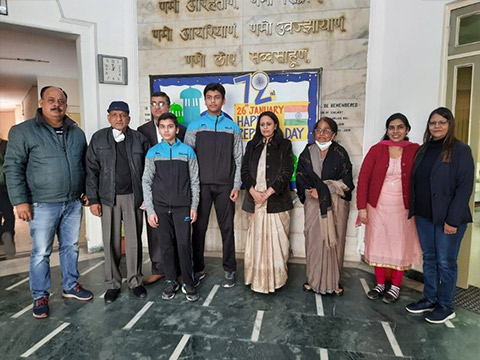 NATIONAL LEVEL ACHIEVEMENT
"The moment of victory is much too short to live for that and nothing else."
Arnav Jain, student of class 9th C brought laurels to the school by achieving National Silver Medal in Karate Championship at National level organised by SGFI (School Games Federation of India).
The Govt of National Capital Territory of Delhi, Directorate of Education, Sports Branch organised the Prize Distribution Ceremony in which Shri Manish Sisodia, Deputy Chief Minister of Delhi honored a cheque of Rs 1 lac 90 thousand, to Arnav Jain at Chhatrasal Stadium on 24.1.2021 for his glorious achievements, which is a matter of great Pride for all of us.

Best school in north Delhi, School in north Delhi, North delhi top schools, Best school in north west delhi, Schools for nursery admission near me, Schools for nursery admission in delhi, Top 10 schools in north delhi, Top 5 schools in north delhi, Top schools near me, Best school near me, Top 10 schools in delhi for nursery admissions, List of schools in north delhi, Top schools in north delhi, Mahavir Senior Model School